How To Maintain An Attractive Front Lawn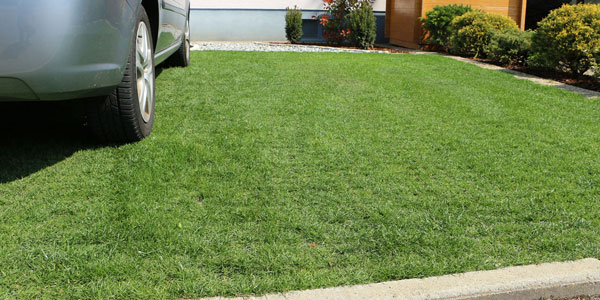 Ideas to Keep Your Front Lawn Beautiful This Summer
It is easy to add some kerb appeal to your front lawn, and make it the envy of all your neighbours.
Winter seems to have gone on forever, but at last Spring is well and truly here, and willingly or otherwise, we are all venturing out to make our gardens look respectable.
Whether you are Percy Thrower reborn or the world's most reluctant gardener, there is no getting away from the fact that the front garden is there for all to see. If you leave it for long, particularly at this time of year, it will soon make the entire property look unloved and down at heel.
Most of us falling into the "reluctant gardener" category have at least some of the front garden laid to lawn. Grass is fairly low-maintenance compared with fiddly shrubs and borders, but it can still become scruffy if you do not look after it, particularly if it has to put up with the rigours of heavy foot or wheeled traffic.
But there are solutions at hand. Whether you need Suregreen grass protection to reinforce and protect natural grass, or you are looking to beat mother nature at her own game and take the low-maintenance approach by calling in the artificial grass installers, here are some simple tricks to making your front lawn beautiful.
Natural but hardy
Anyone who has a combination of grass and concrete knows just how hardy grass can be – sometimes it seems to be a little too tough as it encroaches beyond its territory and starts sprouting up through the slightest crack in your path or driveway.
But abuse it and grass can suffer as much as any plant. If you have kids, then all the chasing around on bikes and scooters, cricket matches and football kick abouts can end up taking their toll. And if you sometimes have more cars than parking spaces, it is so tempting to park something on the grass "just this once," leaving tyre tracks and damage.
If any of this sounds familiar, then grass reinforcement could be exactly what you need. This is a plastic mesh that can be fixed to your lawn. When the grass grows around it, the roots and sward of the grass bind with the mesh filaments, creating a hardy, stable and reinforced grass structure.
Two grades are available, depending on the level of abuse that your grass has to withstand.
Go artificial
Of course, however resilient your grass is, you will still need to get out there and mow it from time to time. Unless, of course, you take the option of installing artificial grass.
Today's products are of superb quality and look very realistic. There are different grades available to suit your purpose and budget, but what they all have in common is that they are rugged, hard wearing and UV resistant. They also look great all year round – perfect for active kids, pets and, of course, those weekend barbecues and garden parties.
Get out and enjoy Spring
Whichever option you choose, now is the time to make the most of your garden, so make it a place that looks great and can handle everything that your family can throw at it!